About me
At the beginning of the previous decade, Genemuiden was the scene of seldom seen supremacy in the multi-day long distance for many years. And that at a distance where such feats were thought impossible until then.
Arjan won many victories, a lot of top prizes and 3x a first national including the 1st national Perpignan ZLU and 1st, 2nd, 3rd, 4th national Bergerac. In addition, he was twice winner of the international extreme long distance competition Gouden Duif in 2011 and 2013.
Boundaries were pushed in terms of training and guidance, resulting in a series of spectacular arrivals in the middle of the night. Who does not remember the images of Arjan calling in three Bergerac pigeons under artificial light at one o'clock in the morning in the pitch dark. Three pigeons, arrived at the same time, which won the first three prizes nationally as it turned out later, followed an hour later by a 4th pigeon that also won the 4th national. He smiles when I explain to him that his approach and his pigeons have brought about a lot. It certainly moves him and that's okay if you shake the tree so hard. But at the same time you won't hear him say too much about it. There is humility in that. He does talk passionately about the belief in his pigeons and his system. The fact is that his different approach left a mark on the way you can perform in the marathon. An approach that was not common until then. Others were inspired by it, even the best fanciers. And not many people of his generation can repeat it. The countless top performances that are achieved with Beens pigeons from here to Japan are also impressive. The super producer MG430, father of o.a, 1e Nat. Barcelona '20 of Jellema and direct from Arjan out of Mr Beautiful x Olympic Miss Gijsje, is a striking example.
All those great performances did not come naturally. On the contrary. He had to do a lot for it and that cost so much energy that the tension broke at some point. After ten years of more or less taking his available time from other things, Arjan decided to stop at the end of 2014. More time for his family with three young children and more time for himself. Til now, six years later, he stuck his nose at the window again. Since 2016, he has been working steadily to form a new balanced team, with a number of great performances by this young formation under construction last year, including his top ranking in the Gouden Duif.
On the weekend of April 10 and 11, in which all races have been cancelled, there is time to have a quiet talk with Arjan about how he is now, 6 years after his temporary farewell.
The passion has not disappeared, that is immediately apparent at the beginning of the conversation in which he reviews his farewell and the years that followed. And a little later, full of fire, tells how he is busy rebuilding his loft and guiding and preparing his favorites for "the ten weeks a year that they have to pop". I think it's a prelude to beautiful things that are about to happen because you can't change the nature of the beast, although he does look a bit different than before. The desire to win is simply baked into it. And to give a lot, if not everything for it, is also an integral part of the fancier Arjan Beens.
At the lectern
It turned out to be a beautiful afternoon where Arjan talks extensively about how he experiences his sport, how he takes care of his pigeons and how he works on one of the most difficult things that exist in pigeon sport; come back to the absolute top! Without interruptions here is his story:
"Many fanciers think that less is asked of the fancier for the multi-day long distance than for the shorter work. That is a big misconception in my view, because pigeons can only perform at a top level if the fancier himself also acts at a top level. You have to do a lot for it. In that regard, I like to read Willem de Bruijn's column in 'De Duif', which regularly encourages fanciers to – in my own translation – 'get rid of their lazy ass'. I think he is 100% right. So you must want to work. Well, with a plan, yes. Without a plan there is not enough direction, everything depends too much on coincidences and that almost always leads to disappointment.
However, being completely absorbed in your hobby also has a downside. I couldn't pull it off overnight after the extremely successful year in 2014 and decided I wanted to put an end to it. I called Jan Hermans and after we had picked up a fork together I had a very good feeling about being able to end an intense period in a nice way. When the auction was through, it felt like a weight was lifted off of me. All pigeons were sold and everyone knows how successful that sale was. I found and think it is a nice proof of the value that was attached to my pigeons. The following years I did without it for a while, but it slowly started to itch again. Watching other pigeons can be fun, but the experience is lacking. Even if you see a pigeon arrive that wins an early prize in the first 10 NPO or national, you have no feeling about it. At least not me."
The reboot
"In 2016 I got my first pigeons again and in 2017 I bred the first youngsters here. I got my own line back from good friends who I had always served well in the period before the sale and even got a basketful from Jelle Jellema. In addition, I got some from fanciers who bought the best pigeons at my sale. For example, from 'Snelle Jelle' (2nd Nat. Perpignan and half-brother 'Miss Gijsje'), bought by Jo van Schijndel and Sons. , I got a number of youngsters and I borrowed a number of pigeons from T. Koele and Zn from the same cock. Wezep.
There are now a total of six of his children in my breeding loft. There are no less than 25 grandchildren of 'Olympic Miss Gijsje' in the breeding loft. That's how I try to get back to the top because I believe in those pigeons. They have something special. Night flying, for example, because I think that's really in the genes of that line. I do everything with a slightly different attitude. On Saturdays, for example, I can be found on the football field. Whatever happens, because I want to be there for my children. All three of my sons play football and I myself coach a team in which one of our boys plays. I really enjoy that a lot.
The pigeons go with them from the start of the season, but if they leave early they have to manage without me when they come home. I'll see how it went later on. The great thing is that football stops when the races I think are important start. Perfect to combine I think this way."
YEAR-ROUND SCHEDULE
The racing team is coupled around mid-April, this year on April 17… the old pigeons breed for 5 to 6 days and then most of the nests are broken down. Depending on which race they go to first, some may finish their first round. The racing team is, as it were, split into various teams, divided for the first two races. After those races, it is checked how everything went and what is left of the original couples.
After that first coupling, the yearlings all raise a couple of youngsters, including the youngsters of the best old birds. And some old ones can also finish the first round. All pigeons are taken away three times in preparation to train, 1×10 km, 1x 15 km, and 1x 40 km) and then to Ede (70 km).
After that, all pigeons just go with the department every week, and that as much as possible on races with 1 night in the basket. So adding kilometers and gaining rhythm, that's important according to Arjan. As soon as races are on the agenda with two nights in the basket, he will go to Hank on Friday or to Velddriel on Saturday. You can go there for training flights of 400 km or more, but with only 1 night in the basket. Normally the pigeons that have to be basketed on Monday/Tuesday for a marathon race on the Saturday prior to basketing go to Breda/Ulvenhout (150 km) for a last training toss. Arjan then trains them himself. In 2021 the six NPO marathon races as well as the six ZLU races will be competed in to try to get an early prize in every race. According to Arjan, however, the team is not yet at the level that that expectation is realistic in terms of age structure and quality.
The old pigeons go to 2 or a maximum of 3 marathon races.
The yearlings first go to a 600 km one day long distance race with two nights in the basket and then to Perigueux (914 km) and Bergerac. (955km)
What's different now
"In order to have more space for the family, I demolished the young pigeon loft. It became a nice space for the children to play and a trampoline and a table tennis table were also placed there. I built a large and deep breeding loft in the back of the garden for forty pairs of breeders so that the former breeding loft became available for the yearlings and the youngsters. The loft for the old racers remained the same, on the understanding that I made a new aviary for it. And I'm still tinkering with that aviary because last summer it sometimes got way too hot for my liking under that dense and translucent polycarbonate roof. The heat hit you on hot days. Normally the loft also ventilates through the open windows to the aviary, but now I felt the hot air flow into the loft. That is why I have now mounted white opaque plates on the top of the aviary to keep out the greatest heat.
What I also do differently is that I now let the youngsters complete the entire program. I didn't before and they were raced a few times in the fall at most. I like this better. I will start breeding at the beginning of December. I breed 200 for my own use and 100 of them are darkened and 100 are not. That is risk spreading because we still don't really know what darkening does to young pigeons. By the way, you can play lights just fine to learn. It really shouldn't rain, then they come home very slowly because of the moult, but they do go home. Racing the youngsters on the appropriate program also has the advantage that I can stop with the races after the summer holidays. And that is a good thing because then the football season starts again. "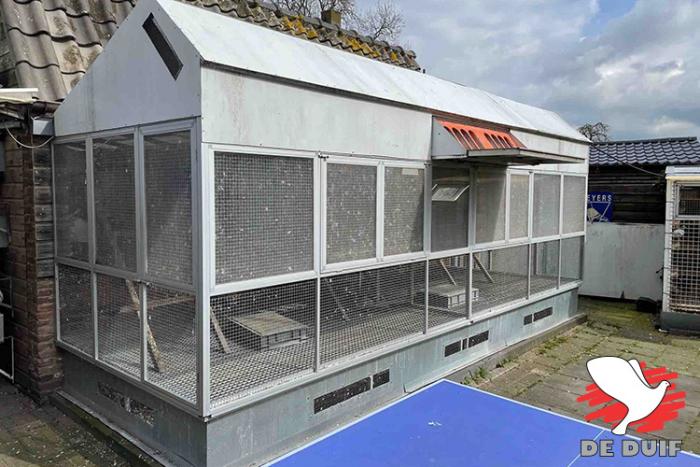 A loft of the old flyers with an aviary, the top of which is covered with opaque plates. The upper part of the front and side consists of windbreak mesh and the lower 60 cm is open.
The consequences of what is different
"It seems clear to me that the yearlings have more experience, but due to the change in the loft installation, the racing pigeons are forced to stay together all year round. After the season, in the moult, after the moult, in the winter, in the spring, during the races in April and during the entire season: always together. So at the moment too. They are half-opened and in order not to collect eggs, everything is completely cleaned every day. I don't use straw yet because then it will go wrong. They even carry dry pieces of manure if you're not careful. And the pigeons are fed lightly and quite tightly. I have to be careful otherwise they will walk under my feet so much they are hungry during this period. Actually I don't like it when a pigeon is hungry but when I let the reins loose they lay and I want to temper them as much as possible now. For this they sit in addition to the lights from 7 to 7 o'clock, during the day also quite a bit in the twilight, you can say in the semi-darkness. The feed composition is 1/3 All-in-One, 1/3 barley and 1/3 paddy. Everything from Beyers. And it works. They train well and they don't lay. Until now I only collected two eggs from the entire flock and this spring I am also lucky with the weather. It is nice and cold and that makes a difference."
And then it's finally party time
"On April 17, the boxes will open, bowls and straw will be placed in the loft and they will be given more food. When the pairs are formed, I write them all down. And it is determined which pigeon of a couple is the most important of the two. And the planning of races is based on that. That is, which pigeon goes to which race. And I keep that next to the general schedule of all races, which I have had in my head for a long time, of course. I try to figure it out in such a way that the pigeons go to an overnight race after 8 to 12 days of brooding. After returning home from that race I let them breed for a few more days and after that the nest is usually broken down and the pigeons are returned to the same nest position for the next race." If it suits them better in terms of planning, they can continue on the nest on which they were basketed and put them in again two or three weeks later on a youngster with fresh eggs next to it."
"When the season gets into full swing, the team of racing pigeons (87 old birds and 136 yearlings in 2021) is let out at five o'clock in the morning. I start 4 weeks before the first important race. Everything must be outside. They then train for five quarters of an hour – with flag – and are then allowed back inside. Then I can go to work on time. In the evening they train for a full hour at 9 pm. So basically at the beginning and end of the day. I try to teach them that the day is longer than they think and that you can very well use the twilight to fly. Basically you're trying to teach them not to be afraid of the dark. I think that some pigeons sometimes continue in the darkness and arrive in the middle of the night is innate and is locked in the genes. I cannot explain it otherwise why the family of 'Miss Gijsje' has produced so many night flyers. Occasionally I skip the evening training because of the heat. I think you're breaking down more than you're building up. Not that it happens often. Only on extremely hot days. In my opinion they should train really hard twice a day . Then you get the best off to a good start. I compare it to cycling. In the classics, most riders can go up to 230 kilometers. And then the best ones give up for the last 30 kilometers and hardly anyone can follow. It is exactly the same with pigeons in the multi-day long distance.
I adjust the feeding when the marathon races are imminent. A full bowl of All in One is then fed. The pigeons can always eat as much as they want and for important flights I also feed in pots right next to the breeding bowls. So that they can also eat when they sit on the nest. In the last days before basketing, they also receive extra peanuts, lots of hemp and candy seed and fat-rich seed from Beyers, so that the tank is full to the maximum. I actually chase them with food. You have to put in as much as possible. And if the best things go a bit off with some pigeons towards the end of the season, that can sometimes be a problem. They then absorb lesser amounts."
"In my opinion, the pigeons should definitely not sit still during the season. Rest is Rust. As said before, a lot of training is a must and in addition to training at home, I also regularly take them away if the situation calls for it. And that is regularly the case because I prefer not to put them in middle distance races with two-nights in the basket. Then I will not have them under my care for too long and there is also a chance that they will run into a very tough race that, in the worst case, will also be released a day later. That affects the nest position and also the recovery if they have to go into the basket on the following Tuesday. That is why in those cases I take them away on Saturday to Breda/Ulvenhout, 150 kilometers away. They are actually never more than a week at home. Then I'll take them again. Of course you have to have something for that. Often that is getting up at 3 o'clock, grabbing pigeons, picking up the pigeons of neighbor pigeon fancier Kolk at half past four and then driving. You have to be able to afford that, which of course helps if you make an appointment with a pigeon friend. If you only make plans for yourself, you can also stay in bed. If you have agreed something, you don't do the latter and you just go. That does help with motivation. And as far as training is concerned, I did not like it for a while last year that we could still fly a nice program for the overnight due to corona. If that had really become a reality, I would have driven it 100% myself to the South of France. How else should I select?" (see also box year-round schedule)
Medical
At the end of December there will be treatment against paratyphoid. A 7-day treatment with Parastop (Belgica-de Weerd) followed by a vaccination on the 8th day and then another 7-day treatment with Parastop. A month later they are vaccinated against paramyxo. Before the season starts they are treated against lice and worms. In the run-up to the new racing season, nothing more happens until three weeks before basketing for the first overnight race. Then the pigeons are treated for 7 days against trichomoniasis with B.S. from Belgica –de Weerd. In the season a Belga-Magic is given during the week before the basketing of each important race. In addition, on Sunday and Monday before basketing (Tuesday), they receive treatment against respiratory infections with Orni-Special (Belgica-de Weerd). "Forte Vita" (herbal elixir Travipharma) is also used during the season. In addition, for a quick recovery after a heavy effort on Saturday and Sunday they are sometimes given Imunnol from Schroeder Tollisan over the food with a little Belga Forme Oil from Belgica de Weerd. To replenish the proteins as quickly as possible to promote the recovery of the muscles so that they can quickly build up fats again.
Lofts sealed
"My lofts have proven their reliability. The decor itself is not special. The nest pigeons are behind closed panels. I bring straw to the loft and that gives pigeons a special ambiance and also has a lot of influence on a pleasant loft climate. I need to be able to play with light and dark in the spring and the aviary is very important all year round. They can always go in there except in the spring when I keep them in the twilight and they are inside. The roof is sealed, but there is a pipe above the ceiling that slowly extracts air. I think about 40 cubic meters per hour or about 1.5 to 2 times per hour the pen volume. The loft always feels comfortable and oxygenated."
Own Doctor
"I rarely visit a vet. Sometimes with a pigeon that needs to be stitched. Not for checks or anything like that. But I do the necessary check to get my pigeons to the start free of diseases. It can go well without medication, but a lot also fails and that's a shame if you know that with me it only takes ten weeks a year that everything has to be perfect. So I leave nothing to chance. I hear stories of fanciers who have been to different vets and were told by one that there is nothing wrong with it and by the next that there is canker in the pigeons. I rule that out by just treating them against canker for 7 days three weeks before the first important race. Then they can in any case no longer have that and that certainly does not stand in the way of performing well. That's how I work. Crossing out is important in my mind. Then I don't have to think about it anymore." (See also the box for the guidance annual schedule.)
Ideal model…
"It's a bit difficult to explain if you don't inspect a pigeon together, but I like a pigeon with a round back with the tail down. And not too big in construction. I like to see them and I call the hens of that type 'butterflies'. They do very well here. My first two pigeons from Bergerac this year were those kind of pigeons. Released at 1 pm and clocked the following day at 10.12 and 10.39 at 1242 mpm to win the 2nd and 3rd national against 25,000 pigeons. For real go-getters with a morning release I prefer to see some checkered pigeons, that is to say something deeper and the weight a bit more in the front between the shoulders. I think they have the power to continue for a long time after flying all day. If possible, even into the night."
In the winter loose or not?
"Until this winter, the pigeons were regularly released in the winter. It always cost about 4, 5 pigeons through the peregrine falcon. This year I have kept the pigeons locked up for convenience and to avoid dangerous attacks. I did give them effervescent tablets (magnesium and calcium) in the drinking water for a while when they came loose again. I don't see any muscle injuries yet, but I'm curious how that will continue. Incidentally, the yearlings were immediately attacked when they were released for the first time. I heard them fly very low between the houses and then I know what time it is. Pigeons that know the attacks dive down and remain motionless on the lofts so as not to stand out. That works. Young and inexperienced pigeons go sky high to escape their attacker, but that usually doesn't work. They are smart and will come down quickly in the event of danger and will fly very low. The problem is often that they fly into everything. Fortunately, it is not so bad in terms of losses. It may sound crazy, but I can still enjoy it, the dives that the peregrine falcons make. After all, they are beautiful birds. If they take my best again, I will lower the tone and if you suffer from it every day, I can imagine that it will make you grumpy."
Climbing in the basket?
"I don't believe in that. I would rather basket them with a 10 rating than an 8.5. They go into the basket fully fueled and round like a barrel. I think that's why they turn their nose up at the food in the baskets on the first day, also because of all the manure from those nesting pigeons. And that they will eat more on Thursday and perhaps even more on Friday. Well, there will be pigeons that run up in the basket, who knows. But I don't count on things that I can't see at the moment of basketing."
Arjan Beens 2x 1e NPO is "nice by-catch"
"Besides overnight long distance pigeons I also have a number of one day long distance pigeons. In any case, I race the six NPO races that the program has here in preparation for the multi-day races and then I also like to see an early pigeon. You do need other pigeons for that and I looked for them from Albert van der Haar, Mark and Gerard van den Berg and Rik Hermans. They are among the yearlings and are not changed from one loft to another when they are two years old. They actually do not fit in in terms of care because they are kept just like the overnight pigeons and are also in between them. That means a long time in the dark and if the multi-day long distance pigeons leave the loft on Tuesday, they still have two days to go. Not ideal, but I already won an NPO competition with it twice. I call that a nice by-catch. And one of those pigeons is 100% Rik Hermans and the other is a half and a half from Gerard van den Berg. So people who claim that the extreme middle distance pigeons from Belgium cannot handle the one-day long distance here in my eyes."
Full in 2021?
"Given the performance I think I'm on the right track. But a balanced team with which you can race everything, including ZLU, will take a few more years. This is mainly due to the lack of sufficient good old pigeons of 4, 5 and 6 years. That still breaks me down to be able to race everything fully. This year I will participate in Barcelona, for example, but I already know that it will also be a bit 'in hope of blessing'. I am also careful with yearlings. I actually think Perpignan is a bit far for pigeons that also have to grow more. The favorites for later are among them and I want to enjoy them for years to come. There is a very good team of two-year-olds here, I have faith in that and they have already done very well as a yearling. The intention is to race 1 or 2 1000 kilometer races with the yearlings at the stations Perigueux, Bressols (Montauban) or Bergerac. The old pigeons fly St. Vincent and go to the ZLU flights. The old ones are usually basketed 3 times on the classics."
Gouden Duif
"To be honest, I wasn't really into that at all and hadn't counted on this podium place either. More like a top ten finish. In retrospect you think I should have done it differently on a few races. But that's looking a bull in the ass. Getting pigeons in the formula of the Extreme Long Distance competition should be possible with a good team, I think. I estimate that this is less difficult than the three first nominated in the sprint and middle distance and two first nominated in the one-day long distance.
Mind you, Mario de Vogel is a beautiful winner. I looked him up on Facebook when I saw that he had a great start with a small team of pigeons at the beginning of the overnight season. And what I saw online is wonderful. Just as he enjoys the sport on the square meter with his children and makes beautiful advertising for it! Congratulations and congratulations!"
Text: de Duif